Message of the Chairman | 2020 ACE Enexor Annual Stockholders' Meeting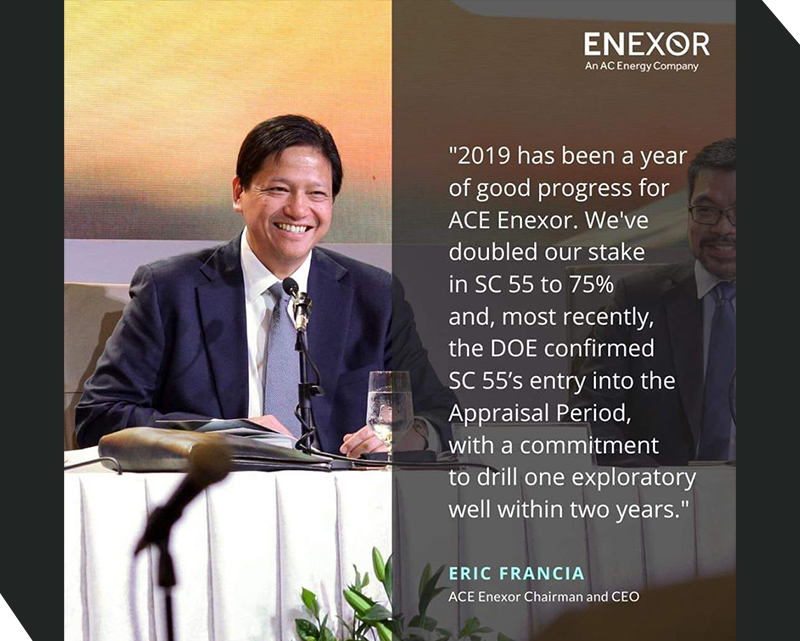 ACE ENEXOR ASM SPEECH
2020 ANNUAL STOCKHOLDERS' MEETING
MESSAGE FROM THE CHAIRMAN JOHN ERIC T. FRANCIA
APRIL 20, 2020
Esteemed shareholders, my colleagues on the Board and management, ladies and gentlemen, good morning to all of you.COVID-19
The impact of the COVID-19 pandemic continues to be felt globally, and the crisis is set to hit the most vulnerable the hardest.
Our various businesses within the Ayala group have been proactive in mobilizing resources to help overcome the challenges.
We are fortunate that there are no known Covid cases among ACE Enexor and AC Energy Group employees. The Company is fully supportive of the government efforts to address the challenges by ensuring the health and safety of our employees and their families, providing support to immediate communities where we operate, and supporting broader efforts such as feeding programs via Project Ugnayan, creation of additional health facilities such as the WTC We Heal as One Center, and the provision of medical supplies and PPEs.
Headwinds encountered, but we remain on course
Amidst the current challenges we are making progress on the Company's initiatives. Significant strides have been made on investments and towards exploratory drilling, yet we acknowledge that headwinds were encountered on the macro environment in which we operate.
The year was marked by oversupply, low prices, few reserves replacement, and modest annual increase in capital spending. The $80 per barrel price of Brent crude recorded in October 2018 fell back to $60 by yearend and remained at that level through most of the ensuing year. Meanwhile the COVID-19 crisis reached pandemic levels in early 2020, severely affecting economic activity and oil demand, resulting in Crude prices declining to less than $30 per barrel.
Persistent challenges and our resilient approach
We anticipate that the same challenges we experienced will persist into 2020. The local upstream sector has been in dormancy in the last four years.  As in 2018, no exploratory well was drilled in 2019 and no new service contract was awarded during the same period.  Malampaya production was nearly flat compared to its 2018 output, but the forecast for its depletion between 2024 and 2027 remains unchanged.  On the other hand, the yield from the Galoc field, now the country's only oil producer following abandonment of the Nido and Matinloc fields in late 2019, continues to decline.
Investor interest in domestic exploration remained weak notwithstanding the international arbitral decision on the taxation issues related to Malampaya.  The unresolved territorial dispute with China is a lingering cause of concern for many international oil players eyeing opportunities in offshore West Palawan. Efforts to revitalize exploration have so far not achieved the desired results, despite the latest petroleum bid round that was formally launched in November 2018.   Of the 14 Pre-Determined Areas (PDAs) offered, only 5 received applications and 2 of these were subsequently disqualified.  Five areas outside of the PDAs attracted nominations that have been qualified for further substantive evaluation.
Outlook
Your Company is well aware of the country's dire need for replacement reserves.  Palawan55 Exploration & Production Corporation, ACE Enexor's subsidiary, has responded proactively by bringing its primary asset, Service Contract 55, closer to exploratory drilling.
A big positive of our efforts was Palawan55's acquisition of the entire participating interest of its erstwhile foreign partner, thereby doubling its stake in SC 55 to 75%, highly encouraged by the results of its technical studies centered on a gas discovery made in the area in 2015.
Furthermore, just last week, the DOE confirmed SC 55's entry into the Appraisal Period, with a commitment to drill one exploratory well within the first two years of the said time frame. Two candidate target sites are currently being evaluated using leading edge standards, and upon completion of the assessment, preparations for drilling will commence soon after.
Looking ahead to the future of oil and gas exploration
To summarize, 2019 has been a year of good progress for our Company. Our decisions and actions during this period positioned us well to work on our future growth and aid in the country's future energy landscape.
The business of oil and gas exploration continues to be challenging, uncertain and very complex. With your continued trust and support, we will constantly pursue business growth and value creation while we move towards playing a significant role in helping the country's energy security in due course.
Thank you.